Articles tagged with: announcement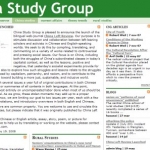 China Study Group is getting a new look! And we're still working out the kinks. Please be patient, or if that's not possible, leave a rant in the comments.
China Study Group is pleased to announce the launch of the Spring, 2009 bilingual web-journal China Left Review. Issue No. 2 examines the the global financial crisis of 2008-2009, and focuses on China's role and reaction. Our purpose is to stimulate discussion and collaboration between left-leaning scholars and activists in Chinese and English-speaking worlds. We seek to do this by compiling, translating, and commenting on a variety of works related to controversial and pressing social issues.