"All on the Same Ocean" - Support HK Dock Workers & the Struggle against Tar Sands Development in North America
by
husunzi
| 21 April 2013 | No Comment | Last modified: 30 May 3:57 pm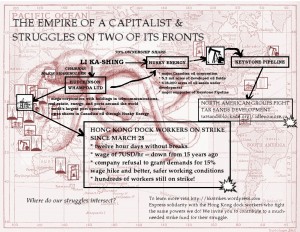 Some international supporters of both the striking HK dock workers and the struggles against tar sands development in North America have set up a website to coordinate international solidarity actions and translate information about the strike:
http://hkstrikes.wordpress.com/
Below are (1) a brief overview of the strike, and (2) an explanation of the link to tar sands development they prepared for Earth Day (today). Also print out and distribute their informative flyer here:
http://hkstrikes.files.wordpress.com/2013/04/hutchwhampoa-huskyenergy-color2.jpg
or here:
http://chinastudygroup.net/wp-content/uploads/2013/04/hutchwhampoa-huskyenergy-color2.jpg
Hong Kong's dock workers are on strike. They have been on strike since March 28th, and they have refused to give in to their employers' threats or insultingly small concessions. They are on strike because their twelve hour days (and sometimes 24s) without even bathroom breaks leave them no time for life and because their meager wages, the equivalent of 7USD/day, are barely enough to scrape by with the sky-high costs of living in Hong Kong. Hong Kong's dock workers have not seen a raise in fifteen years. In fact, their current wages are lower than they were fifteen years ago. And day after day they wear down their bodies doing dangerous work for billionaire Li Ka-Shing – the eighth richest man in the world. They strike because they will not take any more insults to their dignity.
See the following resources for more information on why dock workers are striking:
"All on the same ocean" video : worker interviews and speeches
Worker Q&A – Xin & Chen
(2) Li Ka-Shing in the Tar Sands Biz
by zisel
Li Ka-Shing, the world's 8th richest human being and the man who controls the Hong Kong docks, is not only the man Hong Kong's dockworkers are fighting — he is also one of the people our anti-tar sand friends in North America need to be targeting.
Billionaire Li Ka-Shing, both independently and through his flagship company Cheung Kong Holdings, has his hands in businesses around the world. As those who have been following the strike already know, Li is the Chairman of Hutchinson Whampoa Ltd (HWL), the parent company of Hutchinson Port Holdings (HPH), Hong Kong's main port operator (Li's Cheung Kong Holdings owns a 49.97% share in Hutchinson). HPH alone is a huge business. Controlling 13.6% of world container traffic in 2009, it has long been the world's largest port operator (1). HPH operates in five of the six busiest terminals in the world (except Singapore) and in ports at both ends of the Panama canal. In addition to HPH, however, HWL owns two major telecommunications operations, the 3 brand and Hutchinson Telecommunications International Ltd (HTIL), which cover between them Asia, Oceania, Europe, the Middle East, and Africa, with an especially large presence in Southeast Asia. The company also has investments in real estate and infrastructure projects around the world. But of special significance to those of us in North America is HWL's energy and energy infrastructure investments.
Li Ka-Shing, partially through HWL, owns the controlling share of 70% in major Canadian oil company Husky Energy (2). Husky Energy is head-quartered in Alberta, Canada, the head of the Keystone Pipeline. Naturally, Husky is an investor in* and beneficiary of that project. Adding to its current oil operations of 5.2 million acres,the company is taking advantage of the new oil sands market and developing 618,000 acres of oil sands in Northern Alberta, with the Sunrise field its largest operational project (3). Husky currently has a commitment to shipping crude through Keystone and in its 2012 Annual Information Form discusses benefits of being able to ship to the Gulf Coast through Keystone. Husky operates a number of refineries in Canada and two in the US — the Lima-Ohio and Toledo-Ohio (co-owned with BP) plants. Through Cheung Kong Infrastructure, HWL also has investments in Stanley Power Inc, which operates five power plants in Alberta, Ontario, and Saskatchewan (4).
Share this story on Earth Day! As we think about the Tar Sands and fight the exploitation of native lands and the earth in general for a few people's profits, remember Li Ka-Shing, who is one of those few, and the Hong Kong dock workers who also refuse to be exploited for his profit.
* Husky is an investor in the pipeline in the sense that it has made a "commitment" to ship a certain amount of crude through the pipeline. Any corporation which makes a commitment is entitled to a 15% equity share in the pipeline. (5)
(1) http://people.hofstra.edu/jean-paul_rodrigue/downloads/Notteboom-Rodrigue-GTO-JEG.pdf
(2) http://www.bloomberg.com/news/2012-11-01/husky-profit-rises-on-refining-margin-as-production-falls.html
(3) See http://www.cki.com.hk/english/ourBusiness/home/inv_ca.htm for more details.
(4) http://www.cki.com.hk/english/ourBusiness/home/inv_ca.htm
(5) http://www.downstreamtoday.com/news/article.aspx?a_id=11890